71 Brewing / Valleys Between / 4.2%
Rose Tinted Gose with Strawberry, Passion Fruit and Himalayan Salt.
71 Brewing Says:
'A refreshing blend of strawberry and passion fruit with an addition of Himalayan Salt brings complexity to this beautiful rose tinted gose. One to refresh the palate and tantalize the taste buds.'
This beer has an Untappd rating of 3.73 as of 19/10/2020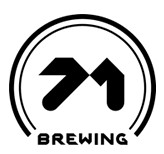 Brewed in Dundee, Scotland
We charge £6 shipping and deliver next working day as standard.*
Free on orders over £50. 
*View our delivery information for full terms.