71 Brewing / Ring the Bells / 5.0%
Gose Packed with Fresh Mango, Passionfruit, Lemon Zest and a Touch of Himalayan Salt.
71 Brewing Says:
'It is uncommonly known that the actor Mark-Paul Gosselaar inspired the naming of the Gose beer style. A true fact, though, is that this Gose is packed with fresh mango and passionfruit, with added lemon zest and a sprinkling of Himalayan salt.'
This beer has an Untappd rating of 3.62 as of 19/10/2020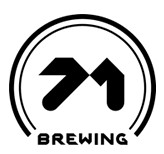 Brewed in Dundee, Scotland
Sorry, this item has already sold out
We charge £6 shipping and deliver next working day as standard.*
Free on orders over £50. 
*View our delivery information for full terms.